Coverage for KINGDOM HEARTS Final Mix Bestiary includes:
---
Using These Bestiaries
When using these Bestiary pages, the information listed refers to the following:
Shadow (1)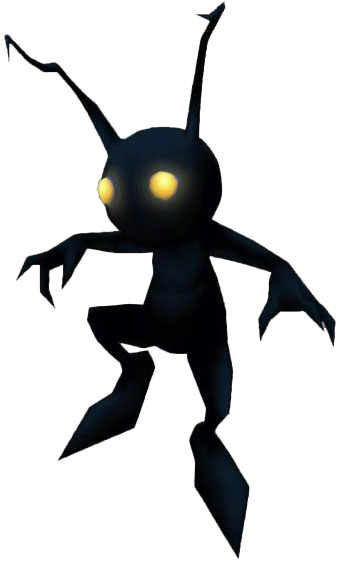 (2)
Stats (3)
HP
(3)
STR
(3)
DEF
(3)
EXP
(3)
MP Rec.
(3)
Drops (4)
HP
(4)
MP
(4)
Munny
(4)
Items
(4)
Vulnerabilities (5)
Weak
(5)
Resist
(5)
Immune
(5)
Absorb
(5)
The enemy's name, as it appears in the game.
An image of the enemy, as it appears in the game.
The enemy's HP, Strength, Defense, EXP, & MP Recovery Stats.
The enemy's HP Ball, MP Ball, Munny, & Item drops
Types of attacks that the enemy is weak, resistant, or immune to, as well as types of damage the enemy can absorb to recover HP.